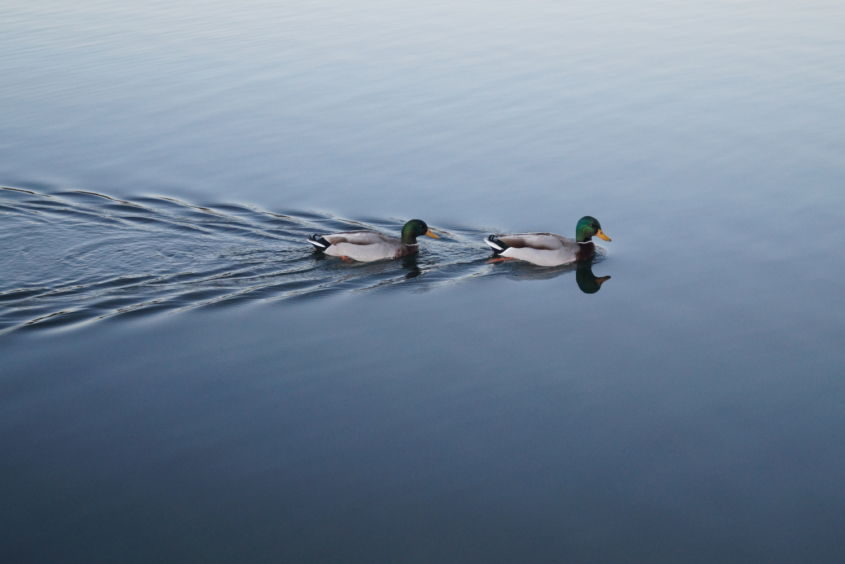 What can ducks teach you about your business? 
Ducks on a Pond
Have you ever watched a duck gliding over the surface of a pond? On top of the water, the appearance is natural, smooth, and effortless. Underneath the surface, that duck is paddling like hell!
I'm sure you've heard a cliche or phrase like this example alluding to the point that certain people seem to have a natural talent or appear to make difficult tasks look easy. That's not the point I want to make with this post. Let's take this duck example and flip it on its head, literally!
"Working Harder"
Imagine two ducks swimming in a pond. One of them is operating just like the example above – swimming along smoothly. The other is flipped completely upside down. The duck's head is completely submerged with both legs flailing in the air.
Which duck is working harder? Which duck is accomplishing more?
In business, we strive to be like the first duck. Projecting a calm, confident, and smooth demeanor on the surface while working tirelessly on the back end. Sometimes, things get flipped upside down and we end up like the second duck. Now, we're flailing our legs and working just as hard but getting nothing accomplished. Even worse, we've got our heads underwater and can't see where we are going.
Where are you in your business right now?
Get Your Head Up!
The second duck's problem isn't related to the amount of work it's doing. If you were observing these two ducks, you wouldn't say that the first one is doing better than the second one because it's working harder. The second duck is working just as hard as the first duck! The problem is that the duck's head is stuck under the water and it can't see where it's going. It has no way of knowing if it's making any progress. More importantly, if that duck doesn't get its head above the water it will die. Eventually, if you and your business don't make any progress it will die, too.
Being a chiropractic entrepreneur is hard, especially if you don't know where you're going. SIDECAR can help guide you and get your head above water. We'll help you find your "why" and create a business run by systems to achieve your goals.
After all, we're not just a bunch of quacks!

Dr. Nathan Unruh, CXO SIDECAR
https://sidecaredge.com/wp-content/uploads/2017/03/ben-pattinson-37125-1.jpg
999
1500
SIDECAR
http://sidecaredge.com/wp-content/uploads/2020/08/sidecar-logo-nav-01.png
SIDECAR
2017-05-22 06:00:50
2020-12-21 11:19:10
Two Ducks on the Pond