Doc, could my mattress be the problem?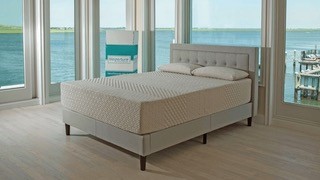 Chiropractors are sleep doctors. 
Patients don't usually think of us that way but it's true. As a chiropractor, you know how often you are asked about how a treatment may affect sleep. 
Or patients say they just aren't sleeping well because of pain. 
In fact, according to the National Sleep Foundation, nearly one-third of people who have undergone a chiropractic adjustment say they experience an immediate improvement in sleep. 
The benefits of regular chiropractic care for patients with sleep issues include easing muscle tension that causes restlessness, relaxing the body, relieving pain and discomfort, stimulating circulation and blood flow, and improving the central nervous system function.  
Following a thorough evaluation, a skilled chiropractor can also provide advice on a better sleeping position, postural exercises, supportive mattress, and ergonomic pillow to help patients sleep well.   
Have you ever heard this question: "Doc, could my mattress be part of the problem?"  
Of course you have. Every chiropractor has because pain affects sleep. 
A good mattress is crucial in achieving good back health. Finding the right mattress that will give your patients a great night's sleep involves getting both the right support as well as the right comfort level. 
At SIDECAR, we're fans of BioPosture sleep products. The company works exclusively with health-care professionals like you because you're on the front lines of solving people's problems. 
There are many factors that affect back pain and how your patients sleep, but a good mattress is proven to make a positive difference. If they have the wrong mattress for them – or their once-suitable mattress is now old and tired – it may be aggravating the pain. 
Americans should purchase a new mattress every 10 years. But many patients are still sleeping on mattresses 15 to 20 years old, well past their effective life as a spinal support surface.  
Through BioPosture, you can prescribe the only American-made mattress that is available through chiropractors? Their products can be manufactured to order with a signed letter of medical necessity without federally mandated fire-retardant chemicals. BioPosture mattresses are finished with the patented fabric – Celliant – for clinically proven wellness benefits.  
Chiropractors know their patient's body structural needs best and can prescribe the right support surface for that patient. In most cases, that is a mattress providing the optimum combination of firm support and comfort. BioPosture was designed to provide exactly that combination. 
Your patients can always make many lifestyle changes to help them get better sleep. Some of these include avoiding caffeine, alcohol, or technology use before bed. However, if they're losing sleep regardless of those changes, it's time for them to buy a new mattress. 
And as a sleep doctor, you can help them achieve this sleep that they've been dreaming of by prescribing BioPosture. 
https://sidecaredge.com/wp-content/uploads/2021/10/BioPosture-Blog.jpg
180
320
SIDECAR
http://sidecaredge.com/wp-content/uploads/2020/08/sidecar-logo-nav-01.png
SIDECAR
2021-10-15 08:24:34
2021-10-15 08:24:34
Doc, could my mattress be the problem?