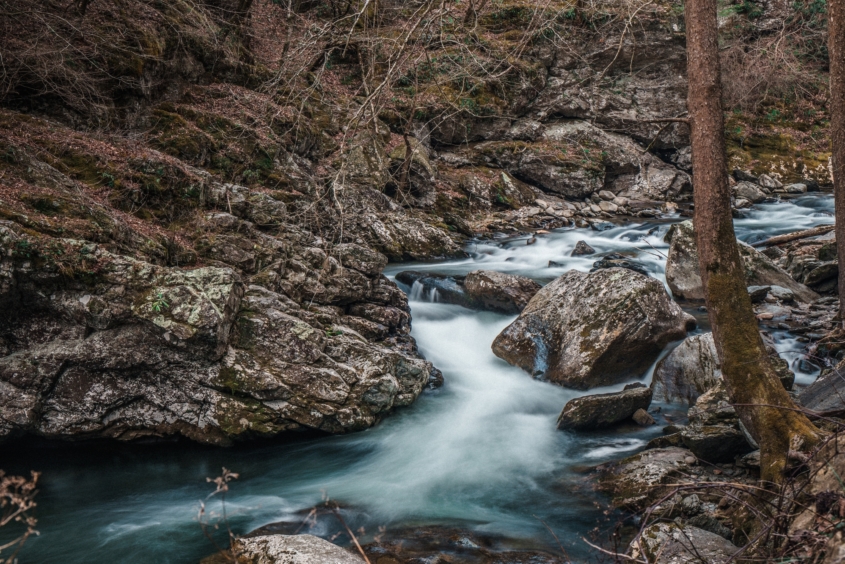 In life you can be the stream and dictate your actions, or you can choose to stay stagnant. 
A stream is a small body of water that is constantly flowing. The stream is always running, continuously moving; it never stops. Around corners, through trees, the stream carves its own path. The stream slowly erodes and creates its own route. Even large rocks are no match for the consistent flowing water of the stream.
You need to be the stream in your life. Keep moving, keep pushing, strive for more. Remain consistent in everything you do and watch as you erode obstacles and create your own path. A stream never stops to take a rest. You can't afford to rest, either. Over time a stream will wear out anything in its path; you need to possess the same demeanor.
A stream is active, it creates movement and generates action. The rock is passive. The only action the rock experiences is done unto it by another force. Eventually, the rock gives way to the desires of the stream.
Comfy Rocks
Are you stuck being a rock? Have you found yourself a "comfy" spot on the river bed where you're safe from the flowing stream? I hate to break it to you but that stream's time will come and you will be at the mercy of the stream! Outside circumstances, perhaps a large rain storm, may cause the stream to expand its reach and suddenly sweep you under.
Do you see the paradox here? If you're the stream and it starts to rain, you're going to pick up speed and start moving faster and creating a bigger path for yourself. If you're the rock, you will be at the mercy of a larger, faster stream.
The opposite is also true, if the weather dries up your stream may become smaller. None the less, the stream will continue to flow and move until it is replenished.
You need to be the stream. There are enough rocks idly sitting by in your market and community. Differentiate yourself and make a difference by creating your own path.
Intention. Effort. Action.
Keep Flowing!

Dr. Nathan Unruh, CXO SIDECAR
https://sidecaredge.com/wp-content/uploads/2017/06/Webp.net-resizeimage-3.jpg
1333
2000
SIDECAR
http://sidecaredge.com/wp-content/uploads/2020/08/sidecar-logo-nav-01.png
SIDECAR
2017-06-23 20:35:55
2020-12-21 11:18:49
Be the Stream